Recommended Sites
Webmasters please send email to submit your site for listing consideration

Boss Domina Directory Find the Domina of your Dreams! Free Domina Directory sponsored by MIB Productions. No popups. No ads. Searchable by City, State and Country. Add links today!

Fully equipped dungeon for sessions Fetters equipment latex, rubber rubber doll in the heart of Paris interrogation scenes, electro play, sissy training, whipping, torture CTB

This is the official site of the Vixen Sadist and Patron Saint of Debauchery, Domina Natalya Sadici. Inside you'll find photos, her videos, and various writings regarding her path as a Pro Domina and fetishist.


As if they were straight out of a cartoon strip, they walk around with their long slim legs clad in latex or delicate leather. They are the ice witches. They usually wear riding boots. They have strict faces. They often wear fine leather or black rubber gloves. They are the girls men desire. They are the girls men hate. The girls men want to possess, whatever it costs. They are devilish, cold, hard and cynical. Women hate them, envy them and imitate them in vain. They have hearts of stone. They are whole, strong, untouchable and unforgettable. They are called the Dominatrixes.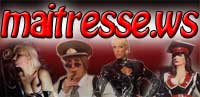 Interviews with Irene Boss! The erotic world of Domina Irene Boss and Friends! Domina Irene Boss, Pittsburgh, OWK, videos, female domination, DVDs, CBT, dildo training, equestrian, caning, boot worship, tickling, humiliation, spanking, otk, slave training, fetish, whipping, rubber, domination, femdom, dominatrix, domina, owk, s/m, sadomasochism, sadism, masochism, Pittsburgh, submission, bondage, discipline, irene boss, slave, submissive, whipping, torture, pain, pleasure, discipline, caning, training, worship, trampling, fetish, domme, the compound, piercing, hot wax, equestrian, golden showers, cbt, nipple, torture, torment, dungeon, tease, chasity, bullwhipping, governess, spanking, otk, paddling, power exchange, interrogation, enslavement, cross dressing, feminization
The erotic world of Domina Irene Boss and Friends
! Domina Irene Boss produces female domination dvds w/ CBT, dildo training, caning, bull whipping, tickling torture, humiliation, electricity, fetish, bondage, spanking, leather, and rubber!
Webmasters please send email to submit your site for listing consideration